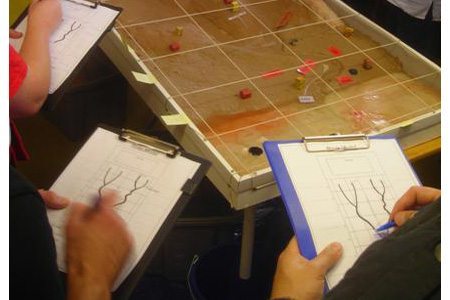 With over 20 years of teaching field work, Naturesbase offers  quality  AS, A2, A Level and IB courses. Located in west Wales we are fortunate to be located in rich surroundings for geography, biology, environmental studies and outdoor education. Close to the tourist towns of Aberaeron  and Aberystwyth , with great access to the Aeron river and it's catchment,  Cardigan bay  with many sites for coastal options , the glacial landscapes of both Snowdonia and the Brecon Beacons are accessible, and the wide variety of rural land use and natural habitats makes this an ideal location for fieldwork.
You will also have the peace of mind that we only have one school group staying at any time.
Whether you opt to teach yourself, buy into some tuition or have a fully tutored course, our onsite presence, equipment and wealth of experience will mean you will receive access to the best sites, resources and facilities.
Further a field: The Centre of Alternative Technology , the leading light on sustainability for over 40 years is just over an hour away. They offer many interactive exhibits and produced the enlightening Zero Carbon Britain 2030 teaching resource.
We also know that the hour or so after formal work in the evening can be an issue. That is why we provide an orienteering course, the wildlife challenge, team building, an extensive play barn and even the opportunity to bake a pizza in our earth oven. Before breakfast there are opportunities to help feed pigs, chicken and lambs.
Our package includes:
Fully-qualified geography teaching staff available
Help with advance preparation of teaching materials
Up-to-date and ready-to-use field trip equipment including flow meters, dumpy level and maps
Risk assessments for all activities
Purpose-built accommodation – no need to share with other groups
Home-cooked  food provided on-site
Classrooms for group meetings and de-brief lessons
Landscaped courtyard with outdoor cob oven
A member of Naturesbase staff on site 24 hours a day
A visit to your school to discuss  your trip.
Being a centre focused on sustainability, we also believe that good education should not cost the earth!
Self taught (food, accommodation, and advice on fieldwork sites & evening activities)   £52.8 per student, per night (£44 + VAT), . Teacher's places are free.
Fully tutored (food, accommodation and tuition )  £74 per student per night (£62 + VAT based on min of 15 students).