A level Fieldwork - Geography and Biology
With the wealth of human and physical environments in west Wales this is an ideal location for field work offering opportunities for all specifications and boards.
Glaciated Landscapes and Change
The Brecon Beacons just under an hour away to the east and the Cader Idris region to the north. We can offer to meet you for an additional field work session on your outward or return journey.
Glacial Processes and Systems – Erosion. Students will develop a sense of place in an inspiring local environment, gaining an understanding of glacial processes and systems and their role in shaping the present landscape. They will explore the impact of ice on the landscape, observing landforms such as corries, glacial troughs, hanging valleys and truncated spurs, which
Glacial Processes and Systems – Deposition. Students will explore an awe inspiring post-glacial environment, piecing together the processes and chronology that has created the landscape they see today. Students will explore the impact of ice on the landscape, observing a range of landforms which have resulted from depositional processes. Through direct observation and use of maps or aerial photos, students will gain knowledge of a number of glacial depositional landforms, including the processes that led to their creation.
Glacial Upland Landscapes: Uses and Management Approaches Students will examine the economic significance of the glacial landscape, investigate the impact humans have on the fragile ecology of glacial landscapes and evaluate ways in which different stakeholders work together to manage glacial landscapes – particularly given the contextual risk climate warming has for these unique and fragile landscapes.
River Hydrology and Morphology in the Aeron valley drainage basin
We use a large interactive river flume model to observe the drainage basin from a holistic perspective before the field work, creating several thousand years of erosion in a few minutes. We have also developed a rainfall simulator, mapping the pathways of water on different managed slopes through a drainage basin. The run off and through flow of each produces a hydrograph which we can be used to discuss the consequences of land management on flooding.
The concise catchment of the river Aeron lends itself very well to a quantitative approach in studying inputs, flows and outputs within a small, easily accessible area on a wide variety of relief, rock / soil types, land use and human management. Measurement and assessing relationships between channel variables downstream, comparison of riffle, straight pool and meander sections, the causes of past flooding, consequences of previous flood events and observing different flood defences and their effectiveness in relation to the floods of 2013 can be studied.
Cardigan bay coastal environments
The west Wales coastline offers a range of opportunities for quantitative fieldwork, to assess the impact of coastal processes on beach profiles, sediment distribution and observe coastal landforms. The sustainable management of a local coastline can be considered within the current risks of coastal recession and flooding. Different coastal management strategies can be assessed using cost/benefit analyses in order to compare the advantages and disadvantages hard and soft engineering structures in relation to coastal flooding.
The sand dune succession at Ynyslas provides good opportunities to use systematic, stratified and random sampling techniques, soil pH, % moisture.
Diverse and Changing Places
The rural settlements of Cardigan coast and west Ceredigion are set within a stunning natural landscape and coastline. The whole area is a popular tourist destination and in great demand as a location for second/holiday homes. Employment is often seasonal and low paid and there is a net inward migration of elderly people which contrasts to a net outward migration of younger people. Many settlements have lost a lot of services in recent years and are remote from any remaining essential services such as shops, schools and doctors.
A typical fieldwork approach to studying this unit would involve students visiting two or three villages and small towns collecting qualitative and quantitative  primary data on types and number of services, environmental quality and interviews  with residents and visitors about their perceptions of place. The above fieldwork activities involve the application of a wide variety of numerical and graphical skills and there is a good range of secondary data available from various sources.
Regenerating Place
Aberaeron and Newquay are small, remote, rural seaside towns with high levels of inward migration of elderly people, very little year-round employment and a lack of affordable housing. The strategies are based around geo-tourism. There are opportunities for integrating geographical skills as both locations offer good opportunities to collect a very wide range of quantitative and qualitative data primary data using different sampling strategies. This allows the use of scattergraphs and correlation testing to study relationships between different data sets. Questionnaires are widely used to investigate public opinions and also the lived experiences of residents and visitors which helps to assess the success of the regeneration schemes.
Alternatively rural regeneration is illustrated by the Cambrian Mountain initiative, supported by Prince Charles. An area historically associated with timber production and upland farming, and now an area promoting low impact family recreation , bespoke food industries and alternative rural accommodation. All examples of rebranding in the post-productive countryside.
Urban Geography Aberystwyth
The large University town of Aberystwyth, is a market town, admisitive centre, home to part of the welsh government, and a holiday resort. It is an incredibly varied and exciting urban area. Dating back to the Iron age it has been an important coastal settlement ever since. It provides a hugely diverse urban area, rich in contrasting population structure and dynamics, high levels of inward migration, varying levels of social and economic deprivation, cultural diversity and contrasting perceptions of place. The town is an ideal size for fieldwork compared to larger urban areas and cities and this makes it possible for a group of students to collect primary data from a variety of urban areas within a single day of fieldwork. Several transect from edge of  the town into the centre is a well-established sampling strategy that provides an incredible "cross-section" of urban form, economic well-being, deprivation, cultural diversity and environmental quality. — Concentration on Central Business District; location of the Optimum Location or Peak Land Value Intersection using pedestrian flows, cluster surveys, rateable values, land use transects and sphere of influence; follow-up study including nearest neighbour analysis and isopleth mapping plus possible comparisons with smaller nearby urban centres such Aberaeron.
A wide range of qualitative and quantitative data can be collected within this urban area, backed up by access to excellent quality census and other data from various online sources.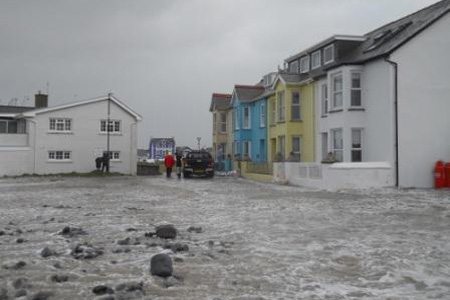 Ecology
The area provides excellent opportunities for the study of a large number of different ecosystems. Students will study the change in vegetation over space and time and relate this to abiotic measurements they have taken on the soil and micro-climate. Students will consider how the ecosystem is developing and how people are affecting it, leading to an understanding of succession and the influences on this process. Methods of data collection, analysis, survey techniques and ways of presenting will be explored.
The area provides ideal opportunities for investigating management of nature reserves, problems of visitor pressure and need for, and techniques of, conservation. Sites include rocky shore, sand dune, salt marsh, peat bogs , grassland, deciduous and coniferous woodland.
Sand Dune Succession
Students will collect a range of data to investigate a fragile ecosystem which will include dune formation as a coastal landform and distribution of colonising plant species along a transect.
Agriculture
A comparison between organic farming and conventional farming land management in relation to water quality, biodiversity and soil structure. This offers opportunities to explore the impacts of different farming practices on the environment.