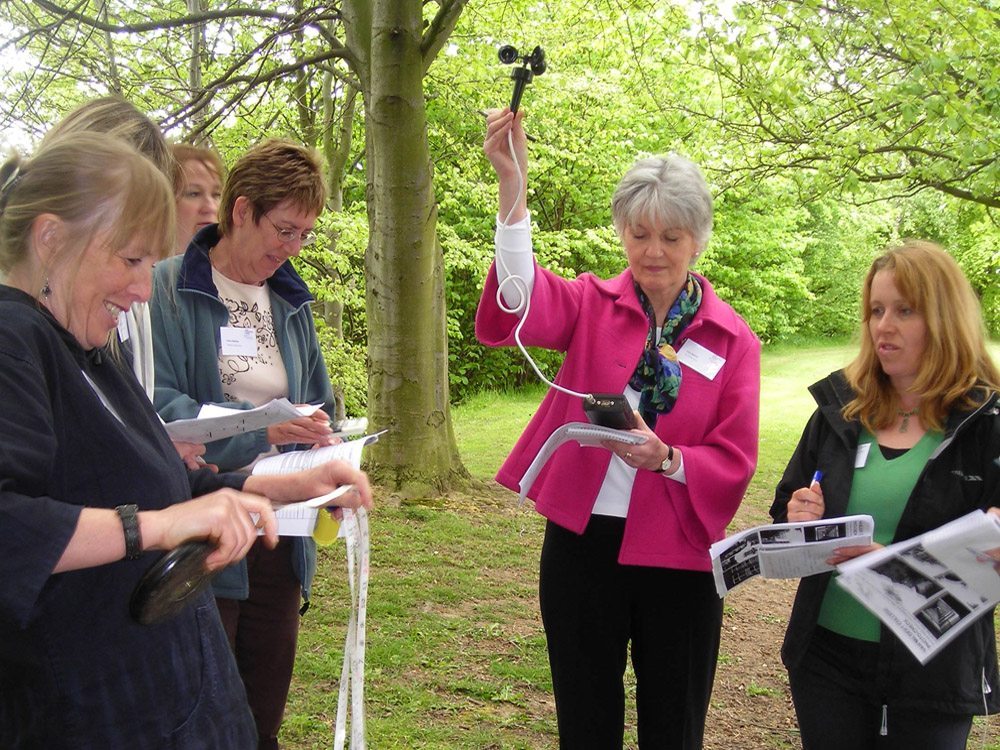 Education is not the filling of the pail but the lighting of a fire!   
Naturesbase is committed inspiring teachers about their outdoor classrooms, the natural world, sustainable development and their school environment.
Like you, as creative teachers we believe in bringing passion, energy and creativity to all we offer.We have a range of courses to support you in teaching the new curriculum creatively, confidently and time effectively.
We work with leading primary practitioners across the country and Europe and our ever growing client base includes: Individual staff teams, the Institute of Education – London University, SCITT, The Geographical Association, Worcester University, The Royal Geographical Society, Oviedo University-Spain, IAPS, AQA, Teach First and Sangam – India and are an approved provider for the Global Learning Programme – Wales
 Gyles, thank you so much for the work you did with us last week. Everyone was really inspired and encouraged by what you said and did with us. I have had several excited emails this week from teachers who have taken their teaching outside and who have said that the children have enjoyed and really learnt in an exciting way.
Helen Smith Montacute Primary School 
Here are a few examples of our courses on offer at Naturesbase , various conference venues and at your school.
1. Outdoor Learning Conference
Using the school grounds to deliver challenging learning and teaching across the curriculum: Foundation Phase – Year 6
Autumn Conferences 2018
12th November  Milton Keynes , 13th November Berkshire ( Full )   14th November Bath,     15th November Somerset,     
These days will be a very practical and interactive day which will meet the needs of educators new to outdoor learning as well as those with more experience. As part of the course all delegates will receive a range of FREE outdoor learning and teaching activities to use in the context of their own schools.  These are all linked to National Curriculum subject content as well as SMSC and will also serve as models which colleagues can use to plan and resource their own outdoor learning enquiries.  Most of the day will be outdoors so please dress appropriately.
Key Objectives: all colleagues will leave:
Having gained practical experience of high quality outdoor learning and teaching at different stages;
Understanding the key principles of designing and resourcing challenging and progressive outdoor learning in subjects across the curriculum and to support SMSC;
With increased confidence, resources and inspiration to design and resource their own programmes of outdoor learning.
Feedback From Autumn Conferences 2018
Out of 140 teachers, 90% said the day was very well presented and very relevant to school improvement, and 10% said it was well presented and relevant.
Loved the 'hands on' approach with this training.  Loved the big question approach – I think we complicate our teaching by fitting far too much into a term
Excellent course – great tutors and great knowledge
Brilliant, engaging, ideas can be taken directly into class and don't require much money time or resources
Excellent hands on approach with a very clear focus on outcome based learning.  This is exactly what our school needs.
"An outstanding day of engaging cross curricular ideas and resources which I can use outside with my class tomorrow. It ticked all the boxes."
"The best and most engaging INSET I have been on, thank you."
2. Locational Knowledge Around the World - Primary Geography
Supporting school improvement & raising pupil achievement
Using geography to deliver challenging learning and teaching and SMSC across the integrated and broader curriculum linking into core subjects: EYFS – Year 6
Autumn Conferences 2018
16th November Gloucester  19th November Oxford , 20th November Warwick, 21 November Birmingham, 
This practical and interactive day will focus on skills, similarities and difference of the physical and human geographies in a wide range of case studies of places around the world
KEY OBJECTIVES
Delegates will leave:
Having gained practical experience of high quality learning and teaching at different stages;
Understanding the key principles of designing and resourcing challenging and progressive geography to support SMSC;
With increased confidence and inspiration to design and resource their own enquiry led investigations and programmes of geography.
3. Other Courses on offer
Ensuring Outstanding Creative Environmental Play in your Nursery or Early Years Setting. This course is for all those involved with Nursery and Early Years Education and responsible for the development of the Foundation Stage Curriculum
Practical and creative geography focus day KS1 & 2
Creative fieldwork and physical geography opportunities in your school  KS 1, 2 & 3
KS3 Enquiry fieldwork
Creating a sustainable school KS 1,2,3,4
If you are interested in organising an unforgettable day or week of adventure and stimulation for your class or a training day for the staff at your school, we are a small flexible team who would value designing a day to meet your needs, so please do not hesitate to contact us.